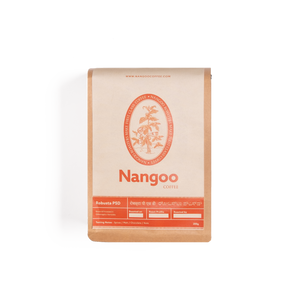 Badra
Robusta PSD
Sale price Price Rs. 800.00 Regular price
Tax included.
Shipping
calculated at checkout.
Our Robusta Pulp-Sun Dried contains high levels of caffeine compared to the rest of our range, please make sure to enjoy this coffee with a dash of milk or cream. It's nutty undertones make for a good, heavy bodied cup with an amazing bitter-sweet finish. We highly recommend to cold brew this coffee as it presents the bean's best potential. Perfect as a metabolism booster too!
Profile : DARK
Recommended Brew Methods 
       Moka Pot        Indian Filter
       Aeropress
        Channi       Percolater / Filter    Cold Brew    
Technicals: 
Alt - 900 masl

Specie - Robusta PSD

Varietal - Selection 274

Processing - Pulp Sun-dried

Region - Bababudangiris,Balehunnor Chikamagalur

Grower Name - Badra Estates & Industries Ltd
Cup Quality Taste Evaluation
Fragrance and Aroma: 
Fairly fragrant and aromatic - caramel and malt
Flavour: 
Fair+. Chocolate, spice, and nuts
Aftertaste: 
Medium finish of soft, smooth, rounded and wholesome mouthfeel, with undercurrents of brightness, topped with flavours and bittersweetness. 
Salt/ Acid Ratio: 
Fair+
Bitter/ Sweet Ratio: 
Fair
Mouthfeel: 
Soft, smooth, rounded and wholesome
Uniform Cups: 
Uniform
Balance: 
Fair+
Clean Cups: 
Clean
Overall: 
A clean cup, with brightness, flavours and bitter-sweetness on the finish
Cup Rating: Average+
Coffee Score
| | |
| --- | --- |
| FRAGRANCE AND AROMA | 6.00 |
| FLAVOUR | 6.50 |
| AFTERTASTE | 6.75 |
| SALT/ ACID RATIO | 6.00 |
| BITTER/ SWEET RATIO | 5.50 |
| MOUTHFEEL | 6.50 |
| UNIFORM CUPS | 10.00 |
| BALANCE | 6.50 |
| CLEAN CUPS | 10.00 |
| OVERALL | 6.50 |
| TOTAL SCORE | 70.25 |