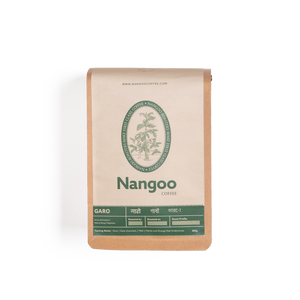 PP80+
Garo
Sale price Price Rs. 400.00 Regular price
Tax included.
Shipping
calculated at checkout.
Sourced from the undisturbed mountains of Meghalaya, these beans are replete with sweet nuances of toasted nuts, a whisper of nougat, intertwined with notes of milk chocolate. The flavour profile of the cup incorporates a hint of dark chocolate and herbs, reinforced by an undertone of orange peel.

Profile : MEDIUM
Recommended Brew Methods 
              Moka Pot       Indian Filter
 Aeropress         Pour Over          Chemex
 Channi       Percolater / Filter    Cold Brew 
 Technicals: 
Alt - 960 masl
Varietal - Selection 9
Processing - Double Washed
Region - Nokrek Range, Meghalaya 
Grower Name - Palani Project 80+
The Plantation Bulk coffee from Meghalaya is well dried and has a 'AA' content of approx.99%. The beans are bold and dense.
The one defect that is discernible, visually and in the cup, is the presence of unripe/green beans, which is present to the extent of approximately 2%. In the cup, the coffee has secured a decent award as it's complexities are greater than it's defects.
 
Fragrance And Aroma: Positive, with pleasant and sweet nuances of toasted nuts, flash of nougat and touch of milk chocolate,
Flavour: Touch of dark chocolate and herbs, the whisper of orange and orange peel, toasted nuts and caramel.
Aftertaste: There is a slight ring of astringency, overall well developed
Acidity: Fairly well structured
Overall, there is scope for improvement in the quality of this coffee from Meghalaya. It is also interesting to note that there is present a relative purity of the Sln.9 strain in the cup, with an addition of external strains as well.