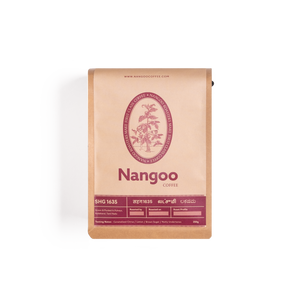 PP80+
SHG 1635
Sale price Price Rs. 450.00 Regular price
Tax included.
Shipping
calculated at checkout.
Strictly High Grown at 1635 metres above sea level - with this intensely aromatic coffee, you will discover notes of caramelised citrus, orange, lemon, brown sugar and a nutty undertone. Fortified with light notes of caramel, this coffee has a soft sweetness that lends itself to a refined cup.

Profile : MEDIUM - DARK
Recommended Brew Methods 
  Espresso           Moka Pot       Indian Filter
 Aeropress         Pour Over          Chemex
 Channi       Percolater / Filter    Cold Brew 
Technicals: 
Alt - 1635 masl
Varietal - Selection 795
Processing - Washed
Region - Pulneys, Kodaikanal, Tamil Nadu
Grower Name - Palani Project 80+ 
The sample of S.795 Plantation Bulk from Perumal Peak, Pulneys, Kodaikanal is nicely dried, with the moisture content of 9.8%.
The 'AA' content is good at 97%.Majority of the beans are oval in shape, with a small percentage of long and slender beans.The main defects are the presence of pulper nipped/ cut beans of approximately 2% and broken beans, which is inclusive of malformed and machine cuts of approximately 2%. 
Fragrance and Aroma: 
The cup is fairly fragrant and aromatic, with caramelized citrus, orange and lemon, brown sugar and a touch of nuts.
Flavour: 
The flavour is above average, with orange, lemon, caramel, grapefruit and light notes of caramel.
Acidity: 
The acidity is above average, but again not well structured.
Mouthfeel: 
The mouthfeel is refined and soft.
Aftertaste: 
The aftertaste is bright, with soft sweetness.
Overall:
 The cup is pleasant.