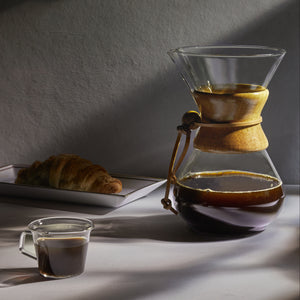 Nangoo Coffee
Large Chemex
Sale price Price Rs. 3,000.00 Regular price
Tax included.
Shipping
calculated at checkout.
Our Chemex shaped Coffee-maker brews the best flavours from every coffee with a clean & tasteful experience. Made of non-porous Borosilicate glass which will not absorb odors or chemical residues. This pour-over allows coffee to be covered and refrigerated for reheating without losing flavor. Simple, easy to use with timeless, elegant design. The chemex shaped coffeemaker used together with the scientifically designed, chemex bonded filters, will guarantee that our pour over brewing process will deliver a delicious cup of coffee, without any sediments or bitterness.
Here's what the box includes!
1 X large glass Chemex jar with a wooden neck
5 X Chemed Bonded filter with a guide on How To Use